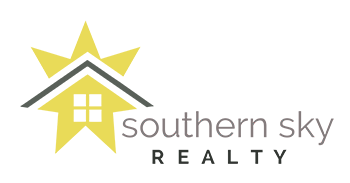 Why use southern Sky Property management?
Hopefully you're here because you understand how professional property management will best maintain the long term value of your asset, while allowing you to enjoy the benefits....and that is by letting us manage the details!
If you are still gathering information about the benefits of property management, please read on, and also visit our Property Management Services page.
With over 40 years cumulative experience in the Real Estate industry, and much of that in Property Management, Southern Sky Realty understands what is required  to provide excellent management services. This includes thorough and consistent marketing, diligent tenant screening processes, streamlined maintenance services and responsive agents for both tenants and owners. Our agents are always licensed Realtors, and we belong to the National Association of Residential Property Managers so we are continually learning about best practices for the management of your asset.
What is special about our management services?
We advertise your property across multiple platforms, and maintain a database of qualified applicants seeking a rental property. Sustained and targeted advertising helps us place a tenant for you quickly.
Your property is always shown by appointment, and attended by a licensed Realtor in the State of Ohio.
Applicants are screened through outside screening agencies, and we acquire credit scores, bankruptcies, income to debt ratios, accounts in collections, national  evictions reports and national sex offender reports. We will obtain references from previous landlords if possible, and your approval of the application is always obtained.
Our knowledge of the local markets means that we can set a competitive and profitable rent rate.
We conduct a mandatory three month post move in inspection, and mandatory move out inspection.
24/7 maintenance and emergency response.
Rent collection and dispersal, and online access to owner accounts and cash flow reports.
Pursuit of delinquent accounts, late fee charges, 3 day notices and eviction proceedings if necessary.
Southern Sky Realty provides property evaluation, professional photography, creation of an advertisement and its distribution to targeted websites, property showings, applicant pre-screenings, lease preparation and move in process for the commission amount of the first month's rent. Then we charge a flat rate for all services:
$75 /month for a single family home
$120/month for a duplex
$200/month for a fourplex
We require a $250 reserve account for any emergency maintenance.
We charge one full months rent as a placement fee. This is not charged until a tenant is placed and a lease is signed.
We don't charge you for tenant pre-qualification or screening, and you have no up front charges.
this sounds great! what next?
Please use the form below to contact us or call at (330) 777-1033. We'll be happy to answer any questions or begin the process.