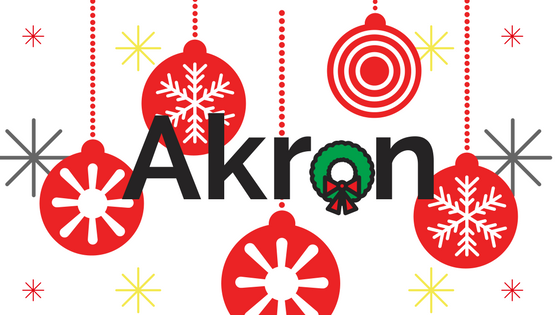 Why We Love Akron
Holiday festivities and local shopping
Akron at the holidays, it is a beautiful city with tons of events and plenty of local shops.  Its that time of year again, so get downtown and enjoy what Akron has to offer!  We wanted to share some fun festivities to check out with friends and family.
Downtown Akron Partnership- Art Walk Saturday, December 2nd 5-9
What better way to see downtown than riding around on the trolly.  Enjoy art, shopping, and great food during this holiday edition of the art walk.  Don't forget to take a stroll down Main street to see the magical window displays.
Akron Zoo – Wild Lights
This is a fun way to get out with the family. The Akron Zoo has a great light show and you get to see the animals.  Bundle up your loved ones and enjoy a fun festive walk with the wildlife.
Northside Marketplace
Need to get your holiday shopping done and want to support local businesses?  Northside Marketplace has over 35 vendors in one place,  what a cool place to scratch some people off your list.
Sweet Mary's Bakery
If you don't have the time to bake this season check out Sweet Mary's Bakery for some tasty holiday treats.  Everything made here is made from scratch.
Tis the Season
These are just a few ideas that we came across to enjoy Akron during the holidays.  Looking for more check out the DAP website for all events going on.
We wanted to share why we love Akron especially during the holidays, it is a wonderful place to live, invest or rent.
Happy Holidays Akron!